Biography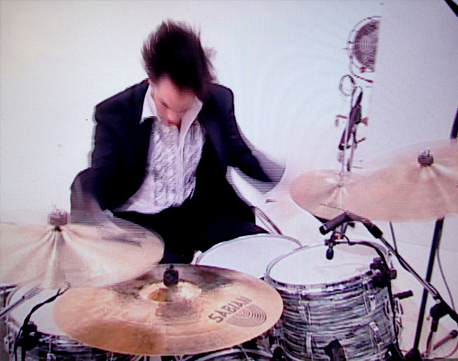 Born in 1968 and raised in Atlanta GA. Started playing age 13. Spent early teens playing in a punk rock band called RY. Later teens and early 20s spent playing in jazz clubs throughout Atlanta.
During the years 86-92 studied Music at Berklee College of Music, Georgia State University (GSU) and the University of North Florida (UNF). I had the opportunity to perform with many artists while in the GSU big band most notably, Max Roach and Rufus Reed. Studied privately as a teen with Craig Owens, Jack Bell (Atlanta Symphony Orchestra), Sonny Emory (Earth, Wind And Fire), Gary Chaffee and Jeff Sipe (Aquarium Rescue Unit). Jeff deserves mention as being the most influential on my playing. An incredible drummer who schooled me like no other. To this day one of the best drummers I've ever known.
While at UNF in Jacksonville I played a year or so with Teddy Washington (James Brown) and Longineu Parsons (Sun Ra). These gigs are remembered as some of the best times I ever had playing jazz. Both of these gentlemen were incredibly kind and accepting to me not to mention helping me survive financially. I think back on those times with great fondness. Interesting side note: Longineu's son , who would sit in with us when he was just six years old would later become the drummer for the band Yellowcard.
I returned to Atlanta after UNF and began performing with many Atlanta based artists including Anne Richmond Boston and Rob Gal (The Swimming Pool Qs, The Coolies). Pryme Tyme, Simon Carter(RIP), Jerry Peek (Dixie Dregs) John Curry, Pat Buchanan (Hall and Oats) Dee Dee Voight (Indigo Girls), guitarists Dan Gross, Russel Malone(Harry Connick) and many others.
Moved to Los Angeles in 1992 during the Rodney King riots (welcome to Los Angeles, Ha!) and began playing with a Hollywood band called Annapurna. Played all the rock clubs around LA for a couple years and recorded an album for Warner Bros in 1994 produced by Sam Taylor (Kings X) that was never released.
Around this time, (93-96) I was rehearsing at Cole Rehearsal in Hollywood. It was here that I met many people including guitarist Alain Johannes who introduced me to my future band mates/studio partners, Dan Pinnella, Ric Markmann and Mat Dennis. We formed a band called Ultraglide and built a music studio. This studio later evolved into Matter Music, an Emmy award winning music production team of Dan Pinnella, Ric Markmann (bassist for Chris Cornel and Heart) and Chris (Wag) Wagner (Mary's Danish). I've done many sessions there over the years for countless tv shows and movies.
During the years 1998-2001 I began working with Ben Lee, The Knack and The Flys. Around 2002, I started another studio in Burbank called Prescription or RX Studios with James Book and Pete Perdichizzi from The Flys. It was here that I first began working with their producer, Chris Goss. We did many recordings between there and at Rancho de la Luna studio in Joshua Tree over the years (2002-2008) including Goon Moon and Unkle.
Began working with Frank Black and The Twilight Singers in 2010-2011. Started working with Adrian Younge around this time as well. I met Adrian through Jack Waterson (bassist for Green on Red and owner of Future Music). Over the past 7 years we have done countless recordings together and toured all over the world with our band Venice Dawn and with many others including: Wu Tang Clan, Snoop Dogg, The Delphonics, Kendrick Lamar, Souls of Mischief and most recently teaming up with Ali Shaheed Muhammed (A Tribe called Quest) to score the Netflix show Luke Cage.